Capabilities
We offer complete design and engineering capabilites. We can work from your drawings or team up with you to determine how to arrive at the optimal design for your project.
Fabrication
With over 6,000 square feet dedicated to fabrication, Pacific Machine & Development has the capacity, the equipment, and the expertise to provide you with excellence in fabrication services.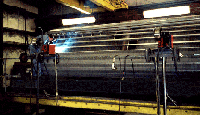 Cinncinati Press Break
60-Ton Ironworker
Sub-Arc Welding
Portable Welding
Shear
Tig Welding

Certified Welding in Steel, Aluminum, Brass, Stainless Steel, Inconnel's, and Titanium.
Machining
Our machine shop will produce new or replaceable parts from bar stock, fabrication, or castings. We machine castings up to 72" diameters with tolerances of +/- .001 and smaller diameters per specifications.
Vertical Boring Mill to 72"
#4 Horizontal Boring Mill
Lathe to 48" x 21'
Universal Mill
Open Side Planer to 4' x 20'
Radial Drill Press to 19" x 8'
Keyseater
In addition to a complete range of metallurgies, our machining capabilities include composite materials and UHMWP's.

We can handle projects requiring crane capacities of up to 25 tons, repair and manufacture hydraulic cylinders, perform electric eye flame cutting, and make custom hydraulic hoses.
Check out our facilities then contact us to see how we can help with your project.