Projects
Rotating Fish Weir
Often installed adjacent to dams, rotating weirs pick up debris on the outer surface of the screen for subsequent removal and disposal. They reduce contamination of hydraulic systems and water ways without injury to fish, and are frequently used in irrigation systems and small hydro-electric facilities.
Ore Truck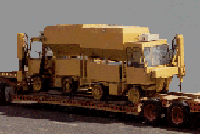 Ore trucks are used to transport aluminum ore along the potline in the ore melting process. The crust breaking attachment on the front of the truck is used for chipping away the crust that forms across the top layer of the melted aluminum ore. Once the crust is broken, additional ore can be added to the potline.
Pulp Washing Filter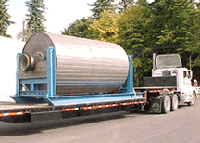 Also known as a rotary vacuum filters, pulp washing drums remove chemicals used to break down and bleach pulp prior to the papermaking process. They range in size from 4' to 14' in diameter and are from 6' to 32' long. The deck (or exterior surface) of the drum is comprised of grids that function as channels for collecting filtrate. The filtrate drains to a system of drainage pipes in the interior of the drum, and is then discharged.
Bell Trunnion
The bell trunnion is the discharge component of a pulp washing drum. It collects filtrate from the interior piping system and discharges it. It also functions as a vacuum regulator, making fit and timing of this component extremely important to hydraulic efficiency. Tolerances are critical.
Depending on size and configuration, the bell trunnion is either a fabricated component, or it may incorporate cast parts prior to the machining process.